Excel Beyond Expectations


By Wellness Medical Qigong (under Maha Pacific Sdn Bhd)
(For kids between the age of 6 to 13)
Introduction
Grand Master Dr. Tan Soo Kong Ph.D, the founder of Wellness Medical Qigong has been providing health consultation and services for over 20 years, people with all kind of ailments and challenges seek his help. On many occasions parents bring their children that have challenges in study due to the lack of concentration, hyper activeness, short memory, etc to him. He uses Qi, also known as Energy or Vibrations to help these children by "activating" their brain. To the surprise of everyone, this method proved to be effective and most of these children excel in their studies and improve their EQ. Hence, it has always his dream to do something to help children improve their IQ and EQ. To him, this will help to groom a "socially useful" generation that helps to make the world better.
Eventually, he decided to develop MBA4Kids program for Brain Activation to develop a child's IQ and EQ, help them excel in their study and, eventually provide guidance in their career path development.
With this add on service Wellness Medical Qigong (WMQ) is now able to provide service to Children and all the way to someone of a more senior age in areas like IQ & EQ Development, Wellness, Health Maintenance and Improvement.
The MBA4Kids Program
The program consists of 2 day activation workshop, followed by revision and practice sessions. After the 2 days' workshop, parents will be provided with a Home Practice Kit and Guide on how to conduct daily practice at home with their kid. The follow-up revision and practice is to ensure that the ability developed from the workshop stay with the kid forever and enhanced further.
Any Guarantee?
From experience, the 2 day workshop have achieve almost 100% success rate. In the event of the kid not able to achieve any results, the center will arrange for a FREE repeat of the activation workshop.
How will it help my kid?
The program will activate the mid brain and balance the Right and Left brain. The end result is an improvement to the kids IQ and EQ, thus allowing them to achieve better results in life.
For more information please visit www.mba4kids.com.my by click HERE.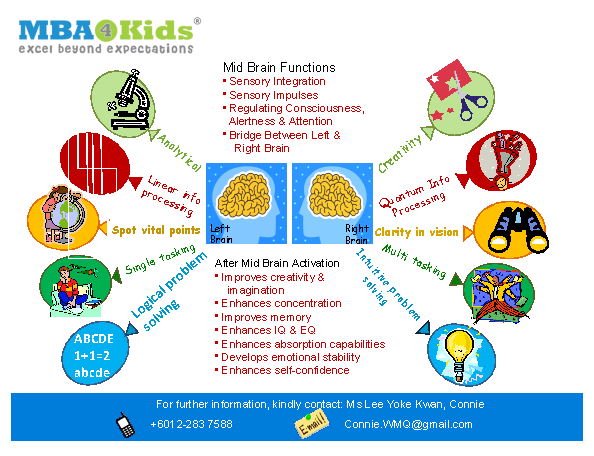 All trainings are conducted in English and seats are limited.
Please email mastertan.wmq@gmail.com, or fill up the form below to book your place in advance and we would contact you for any updates.