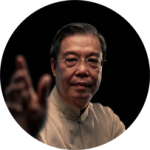 Founder of WMQ
Grand Master Tan Soo Kong, D.Sc(AM), Ph.D
Grand Master Tan is a very simple, humble, caring, kind and spiritually-oriented person. His students are known to feel extremely at ease with him and drawn to his very unassuming, pleasant and affable personality. He has long established himself as a wise, painstaking and patient teacher. With a background in Taiji, Grand Master Tan has also been involved in Qigong for four decades, having had training from many eminent and renowned masters of the art, notably Grand Master Wee.
He was also very fortunate to meet several medical Qigong Masters from China who were so kind to share their knowledge and experience with him. Among them are a Chinese medical Qigong Grand Master who wishes to remain anonymous; he, in fact opened Grand Master Tan to the immense possibilities of applying Qigong for medical treatment. Thereafter, he met Grand Master Shao, a professional Qigong doctor, and his teacher Great Grand Master Her Si Hai. Great Grand Master Her has trained many outstanding medical Qigong masters and has been instrumental in setting up many Qigong hospitals in China.
Grand Master Tan has had a successful career in Information Technology and the Food & Beverages business; he retired prematurely to pursue his passion for Qigong and healing in order to alleviate human suffering. Grand Master Tan provides treatment services and conducts Qigong training for general health and self-healing. In addition, he also provides specialised training for those who aspire to become professional medical Qigong practitioners.
Besides those in Malaysia, his students and patients from Singapore, Australia, Indonesia, India, Japan, USA, Switzerland, Canada, New Zealand, Philippines, Portugal, Spain, UK, Russia, Germany and Thailand have greatly benefited from his knowledge, experience and expertise.
Grand Master Tan is on an altruistic and spiritual mission to promote and propagate Medical Qigong as a worldwide healing modality by sharing his knowledge, experience, expertise and research findings with anyone who is deeply interested, committed and dedicated and who aspires at the same time, to contribute to, and participate in, the enormous work and effort involved.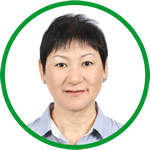 Master Connie Lee Yoke Kwan
Master Connie Lee Yoke Kwan has a very Loving and Caring nature. She is always ready to help those in need. People around her always feel relaxed, at home and welcome. Although married to Grand Master Tan Soo Kong for more than twenty years, initially she was not interested in Qigong, even though she was curious of Grand Master Tan's energetic level and calming personality. However, over the years she witness the power of Qigong in helping people to improve their health and how Grand Master Tan uses the technique of Medical Qigong to heal people that go to him for help.
Her turning point was when she witness Grand Master Tan help a 10 months old baby to close the hole in her heart and overcome genetically problem of CdLS. She started in a serious note in acquiring Medical Qigong healing techniques under Grand Master Tan. Since she qualified as Medical Qigong Therapist and Trainer, she is now practicing alongside with Grand Master Tan at Wellness Xpress Centre, a complementary medical centre in Kuala Lumpur, Malaysia. She also played a significant role in WMQ training ranging from Qigong Essentials, Self Healing Techniques and WMQ Treatment Techniques.
Besides Wellness Medical Qigong, Master Connie is trained in Psychic, Atmic Yoga and Sun Yoga. She is also active in helping in establishing of Malaysian Society for Complementary Medicine (MSCM). She is elected as the Honorary Secretary of MSCM, the professional body of practicing complementary therapists in Malaysia, and its Chapter Leader for Medical Qigong.
WMQ Master
WMQ founder Grand Master Tan constantly improve and upgrade the skills of the practitioners. He always says that he is looking for someone who can be trained to become Sifu and Master. He grown his students through a system of Discipleship, and award them the recognition when they achieve the level of Sifu and Master. Over the years, there are several practitioners have achieve the level of Sifu and Master listed below:
Master Connie Lee as introduced above.
Master Dr. Ganasan, a Malaysian trained medical doctor who is now based in HIHT, India as the Director of the Combined Therapy. Sifu Dr. Ganasan has been practice and teach Yoga for more than four decads and he trained under Grand Master Tan for more than 10 years. Besides his deep understanding of WMQ, he has also integrated his knowledge of Yoga with WMQ.

Master Steven Lim, based in Johor Malaysia. Sifu Steven has been trained in Martial Art Qigong or also known as Hard Qigong for more than three decades and he is a senior instructor in his previous Qigong organization. He was curious about when he reads about Grand Master Tan in the local newspaper and went to "check him up". He was so impress the simplicity and power of WMQ he decided to be trained under Grand Master Tan. Sifu Steven healing skills has help many in China, Vietnam, US, Malaysia, Singapore etc. Just to name a few countries that he travels.

Master Fred Fu, a retired company director of a leading Japanese multi-national company (MNC), he is currently based in Toronto Canada. Sifu Fred attended Grand Master Tan's talk in a leading hospital when he visits his friend who was warded there. At the end of the talk he participants in the demonstration that Grand Master Tan gave to a group of audience. He was so surprise with the power of Qi that he decides to join Grand Master Tan professional Qigong Therapist course. Sifu Fred has touches so many life and achieved many cases that medically may called them "spontaneous healing" or miracles.

Master Per van Spall, based in Bali and Singapore. He has been raised by his grandma who also was Qigong Sifu. After establishing himself in a successful career in sales and corporate management, he became a facilitator in conflict resolution. Next to this he studied Spiritualism and Psychic Sciences in London. When Master Per came across Grand Master Tan he found out that they share the same vision and was impressed by the system of WMQ developed by Grand Master Tan, he decided to receive training by Grand Master Tan and has been certified in WMQ.
Master Per promotes physical wellbeing, spiritual growth, and emotional healing, his clients hail from diverse cultural and professional backgrounds from all over the world, from coaches, to university professors and successful executives.
WMQ Sifu
| | |
| --- | --- |
| | Sifu Deepak Singh is based in Delhi India. |
| | Sifu Victor Lim is based in Petaling Jaya Malaysia. |
| | Sifu Kwong is based in Hospital Lam Wah Ee, Penang Malaysia. |
| | Sifu Meeli is based in Hospital Lam Wah Ee, Penang Malaysia. |
| | Sifu Wendy is based in Hospital Lam Wah Ee, Penang Malaysia. |
| | Sifu Teoh is based in Hospital Lam Wah Ee, Penang Malaysia. |
| | Sifu Dr. Diogo is based in Coimbra Portugal. |
| | Sifu Dr. Fernando is based in Santiago de Compostela, Spain. |
| | Sifu Tan TC is based in Jinjiang, Selangor Malaysia. |
| | Sifu Henry is based in Bali Indonesia. |