+ COURSES
Wellness Medical Qigong Center conducts various types of medical Qigong training. Most of the training is conducted by the founder Master Tan Soo Kong personally. The most popular courses are:
Qigong Essentials course
Self-healing course
WMQ Treatment Techniques courses
WMQ Treatment Practical Training
WMQ advanced training programs
This course is designed for everyone. The two-day training covers fundamentals of Qigong and Wellness Qigong set of exercises. The objective is to train the participants on the various important aspects of Qigong e.g. Dan Tian, meridians, Inner Orbit, Five Elements, concept of Yin and Yang, energy breathing and so on.
The set of Wellness Qigong exercises taught in Qigong Essentials course covers both dynamic movements and stillness exercises; incorporating breathing and Dao Yin techniques. It will help practitioners to loosen and stretch the body and to activate, enhance, circulate and store Qi.
Course Outline
Course durations: Saturday and Sunday, 10am to 6pm
Topics covered are:
Meridians and Major Acupuncture points
Five Elements and Internal Organs
Concept of Yin and Yang
Qigong Breathing methods
The Three Dan Tiens
The power of Yi
Wellness Qigong Dynamics movement exercises
Wellness Qigong Lying Down exercises
Wellness Qigong meditation
The participants will learn the following:
Loosen the body and meridians
Activating Qi
Enhancing Qi
Circulating Qi
Storing Qi
+ SELF-HEALING
COURSE
Do you feel sick but the medical report shows that you are 'well'?
Does an old injury keep bothering you?
Are you looking for holistic alternative or complementary therapy?
Do you feel helpless?
Its time to check out Wellness Medical Qigong (WMQ) Self-healing Course
WMQ self healing methodology: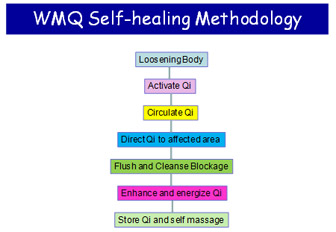 Course Objectives
All participants must complete the Qigong Essentials course before attending this course. The course objective is to train the participants in the art of ancient Healing Sounds Qigong and the WMQ self-healing techniques to overcome health challenges, as well as maintain and improve health.
Course Outline
Module One – Qigong Essentials
Two days during weekends (Saturday and Sunday)
From 10am to 5pm. (Refer to Qigong Essentials write-up for details)
Module Two – WMQ Self-healing Techniques
Two days during weekends (Saturday and Sunday)
From 10am to 5pm.
What does the Course (Module Two) cover?
The course covers the following comprehensive topics:
Meridians in more detail
The main causes of ailments
The power of Yi
The key to self-healing
Directing Qi
Importance of emotional stabilization in healing
Wellness Qigong and self-healing
Ancient Healing Sound Qigong
Color meditation Techniques
Life style assessment
Self-healing technique and Common ailments
+ COURSES IN WMQ TREATMENT TECHNIQUES
Have you heard of Reiki, Quantum Touch, Pranic Healing, Universal Energy etc?
Do you know how these works?
Have you heard of "Fa Chi"?
Do you know what Medical Qigong is?
If you don't or want to know more, read on.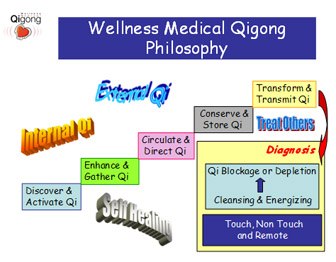 What you have to learn to become a Medical Qigong healer:
The training steps towards Certified WMQ Practitioners are

Discover Qi
Activate Qi
Enhance Qi
Recharge Qi
Gather Qi
Circulate Qi
Conserve Qi
Direct Qi
Store Qi
Transmit Qi

Main causes of illness
The WMQ treatment principles and protocol
The various treatment techniques
The techniques in Touch, Non Touch, Near Distance and Distance healing
Precautions before, during and after treatment session
And many more techniques that are kept as secret by Masters
Practical training case studies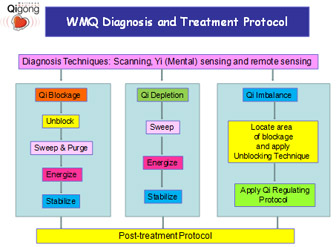 To date, there are students from more than ten countries who have attended Wellness Medical Qigong training.
The training is organised into several two-day weekend modules. All participants must successfully complete the Qigong Essentials and Self-healing courses in order to attend the courses on WMQ treatment technique, leading to certified WMQ Practitioners. Wellness Medical Qigong Center reserves the right to screen and select suitable participants.
+ WMQ ADVANCED TRAINING PROGRAM
These are courses that are specially designed for certified WMQ Practitioners. Each course deals in depth a specific topic, for example, cancer treatment protocol, breast cancer treatment technique, lung cancer treatment technique, stroke recovery, bone structure related problems treatment, flat foot corrective treatment etc.
All trainings are conducted in English and seats are limited.
Please email sifutan.wmq@gmail.com to book your place in advance.
Centre in Malaysia:
WMQ Puchong Training Center (Selangor, Malaysia)

Categories: Training > Qigong Essentials
I benefited a lot from Wellness Medical Qigong as it has helped to alleviate some of my health problems which I have suffered for more than a year, my physical problems are as follows: (1) I have irritable bowel movements (IBS); it has been cleared after just one week of practicing Wellness Qigong. (2) Indigestion problem, which always produced a lot of gas after food. - The problem no longer exists after the training.
I have heard about Qigong but have had doubts about it. Now that I have experienced Qigong, I can safely add this to my regular exercise regime for my well-being. I can also advise my family members and friends on general health maintenance. Finally, I can introduce others who have health problems to Master Tan. I can now practice Qigong in the park on my own.
I wish to THANK YOU and your wife for the wonderful time and your unselfish sharing of Qigong knowledge with all of us on Saturday and Sunday. To be honest with you, I feel that I have gained a lot from the two days of my time with you. I have been practicing qigong (two other types of qigong) since 1984. I am confident that your Qigong Essentials course and Wellness Qigong set of exercises will definitely help to build up one's health if practiced regularly. Rome was not built in a day and therefore to experience results, I believe it would take a while if we practice it religiously. Your willingness to share with us is something that I admire and I salute you for this. I sincerely hope all those out there who are busy looking for wealth should spend sometime with you and master Qigong. After all what is wealth without health? I hope this message would reach the so-called busy people. Thank you again, Sifu.
Steven Lim (Johor, Malaysia)
Note: Steven have been practicing Qigong for more twenty years. He is a qualified and experienced Qigong Instructor.

I really enjoyed the Healing Sounds Qigong. The relaxation technique is excellent. For me, just being in this environment for two days has enhanced my awareness of Qi.
Well conceived, informative, very enjoyable training. Flow of content and teaching easy to understand. Peaceful and calming atmosphere. Excellent teaching
The course is well structured from concept to theory and practical. The exercises are simple and effective. The final exercises are well planned of and give participants the feel of Qi and how to control Qi.
I have a better understanding of what our body function and physical well-being. With proper training and practice, I have no doubt we can all achieve physical wellness. Sifu Tan is a teacher who can deliver Qigong training effectively to all sorts people.
Categories: Training > Self Healing
A very good experience for me. After the first day, I had very good sleep and my knee was not painful when I woke up the next morning.

I am glad that I came for the course. It has given me an opportunity to do the necessary exercises for my own health without fear of any sports injury. Master's training method is very effective and his explanations are very clear.

It really takes personal experience to realize the power of Qigong and Wellness Medical Qigong. I never knew Chi can be felt almost as a tangible force until today (despite having attended many related training programs, both local and overseas, before), I will definitely carry on learning and hope to eventually become part of Wellness Medical Qigong Inner Circle. Thanks for the experience.